---
For St Cecilia: Finzi, Britten, Purcell, Howells
Tue, 23 Nov 2021

It is good to see local choirs heading back towards some kind of normality, as did Pro Nobis at Cartmel Priory a few weeks ago. Conductor Ian Jones stated that music and the performing arts had been short changed by the Covid epidemic, but the choir were going to help us to re-launch live events. In doing so, they helped us to celebrate S. Cecilia's Day (actually the 22nd). Of course, S. Cecilia is the patron saint of music, and the composition of a number of the pieces in the programme were inspired by her.

Ian Jones, the founder and conductor of the choir, was performing at his final concert. That is a great pity, but it is better to retire whilst still at the top of your game. He had chosen a number of his favourite pieces. It was Ian who introduced me to the music of Finzi many years ago, and there is a lasting impression.

The concert opened with that great C20th English choral composer Herbert Howells' Hymn to St. Cecilia. Immediately we were engaged by a rousing unison sound in the first verse.

Daughter of another great English composer Gustav, Imogen Holst's unaccompanied A Hymn to Christ was given a firm foundation by the bass line. Coincidentally, this piece was sung the following day on BBC Radio 3's Choral Evensong live from Truro Cathedral.

O Clap Your Hands together all ye people, is a setting of Psalm 47 composed in eight parts by Orlando Gibbons. Like Laudibus in Sanctis by William Byrd later in the programme, could have done with a more sympathetic acoustic, and the execution was closer to madrigal style than English sacred choral music.

Tenor soloist James Marczak, ably accompanied by Andy Plowman, gave a lyrical performance of a beautiful song by Howells, King David.

In Valiant-for-Truth, music by Vaughan Williams, the part singing was secure, and here again, the basses were the choirs secret strength. The section including 'Death, where is thy sting?' was powerful.

Britten's Hymn to St. Cecilia contains an imitative section, and this was particularly effective.

The only non-British piece was Chant donné by the French composer Duruflé. This is a solo organ piece with sumptuous harmonies played Andy Plowman. It was a very sensitive performance. Andy made the best of a very basic electronic instrument.

Levens Choir commissioned Adrian Self to set Three Songs for Christine, words written by a choir member who had died two years ago. Adrian always writes effective and sensitive music. I particularly enjoyed his 'Thoughts of a Corncrake on the RSPB Reserve, Coll'. The humour was well captured in his music - and the choir appeared to enjoy themselves.

The concert concluded with Parry's My Soul There is a Country in which the chording at the outset took a little time to settle, and some entries lacked unanimity, but Finzi's For St. Cecilia brought the concert to a fitting climax. I must confess that I had never heard this piece before, but the choir sold it to me. After a regal keyboard introduction, the choir took us on a harmonic adventure.

Overall, this was an enterprising and challenging programme, and Levens Choir certainly assisted our celebration of S. Cecilia.
Robert Talbot.
---
Starry Music
Sun, 15 Dec 2019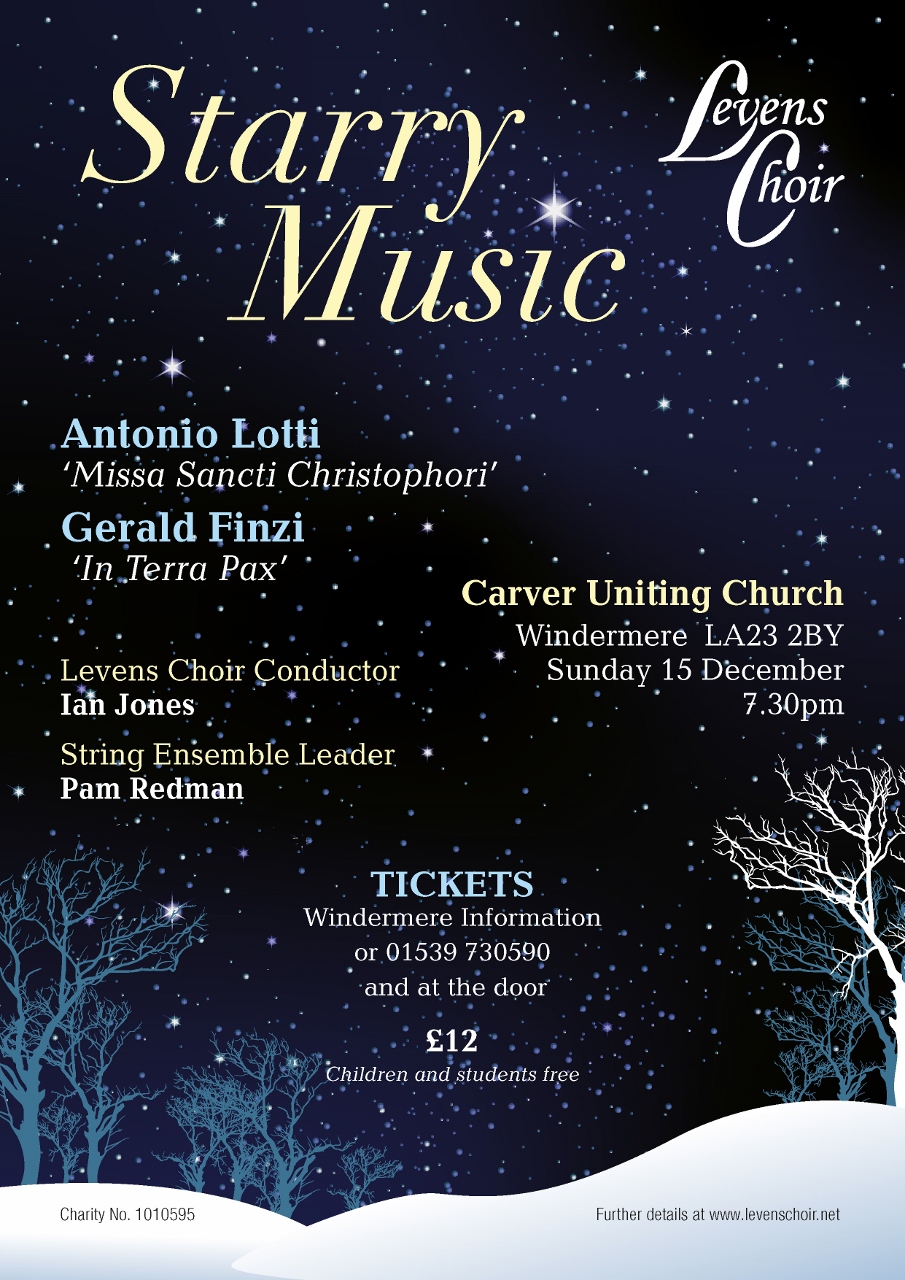 A rare musical treat was unveiled for the audience at the Levens choir Christmas concert. Amongst carols, a string quintet and some seasonal music from Finzi, the highlight of the evening was the Missa Sancti Christophori by Antonio Lotti, a Baroque composer best-known for his 8-part setting of the 'Crucifixus' from this work. The Levens choir took on the challenge of this substantial work with spirit and energy, and were ably and sensitively accompanied by the string ensemble (led proficiently by Pam Redman) and Andy Plowman on continuo. The Music Director, Ian Jones, drew out the very best from the choir, with precise articulation and the contrapuntal passages neatly interwoven throughout. The voices were well balanced, with solo parts competently covered by choir members, and careful shaping of phrases ensured variety and interest, with a sustained and full sound worthy of a larger choir. The Crucifixus flowed beautifully despite some initial hesitancy at the start, and all 8 parts moved as one to give a delightfully rich and textured wash of sound. The choir did full justice to this magnificent yet challenging work, and should be commended for their performance.
After some well-chosen carols (including the Stable Carol written by choir member Robert Duffield, a gentle and lyrical piece with some pleasingly complex moments), the string quintet performed the Bax 'Lyrical Interlude'. This is a very pleasant yet little known work, which reflected Bax's interest in Celtic culture. The quintet played with cohesion and sensitivity, with players supporting each other to create a perfect balance. There was skilled and controlled playing throughout, with some beautiful warmth of tone in particular from the violas.
The concert closed with Finzi's 'In Terra Pax', which intersperses the poem 'Noel: Christmas Eve 1913' with St Luke's account of the angels' visit to the shepherds. The choir brought across the solemnity of the occasion well, with soloists Edwin Reynolds and Rebecca Chandler taking the parts of the poet and the angel confidently yet with gentleness and delicacy of tone. There was a triumphant and joyful climax, with the choir skilfully passing passages back and forth to create a cacophony of pealing church bells to proclaim the birth of Christ. This was an exuberant performance, a perfect end to a most enjoyable evening.
Veronica Dunne