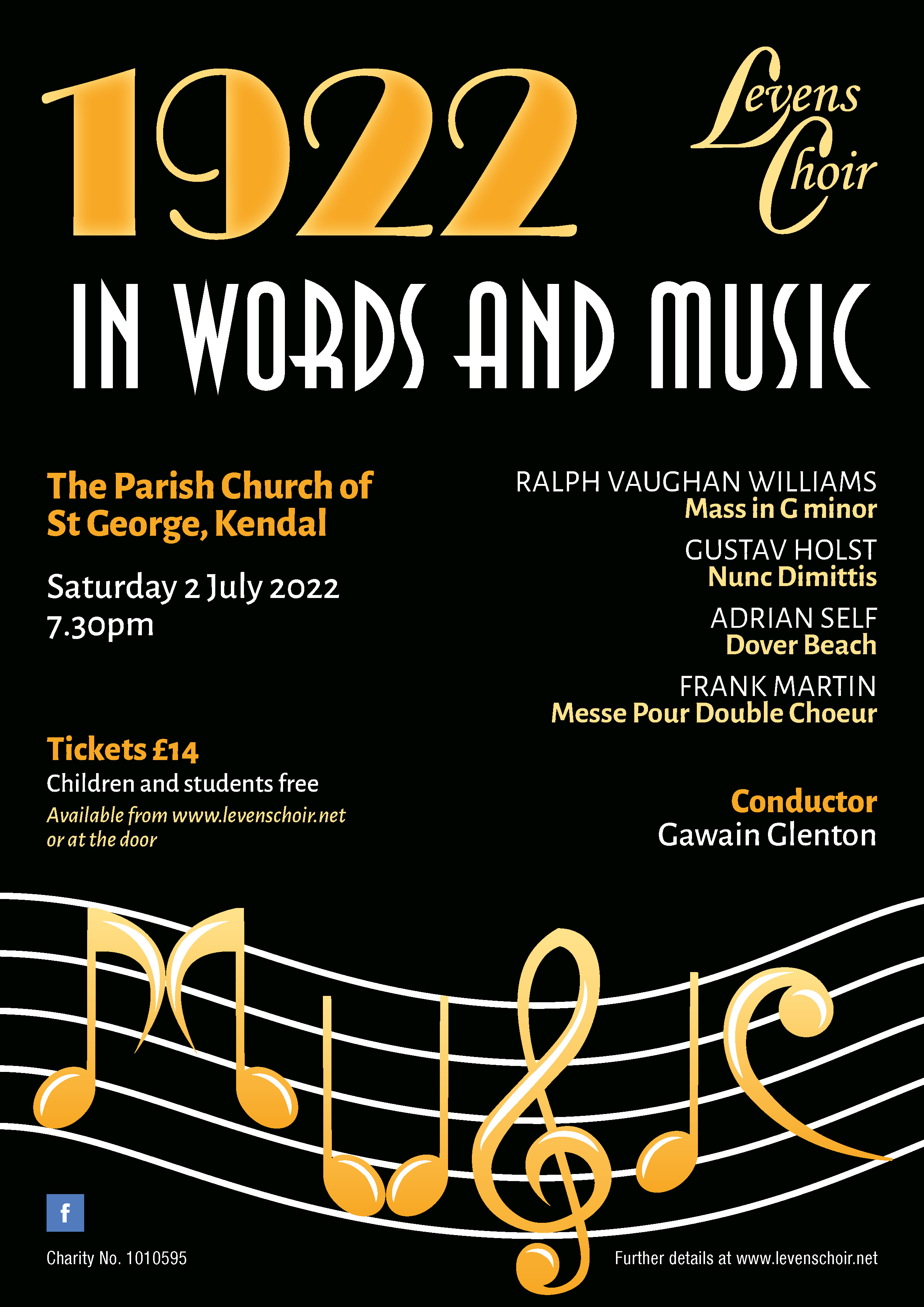 In Vaughan Williams's 150th anniversary year, we look back a century...
The 1920s witnessed major political upheaval and economic problems across Europe. At the same time artistic creativity was also clearly in evidence.
1922 saw the publication of James Joyce's Ulysses and new sacred music by Vaughan Williams and Holst, mixing modern English harmonisation with sixteenth-century choral tradition. The follower of Arnold Schoenberg, Frank Martin, wrote most of his Mass for double choir, but he did not allow its performance until 1963.
These choral works are interspersed with readings from 1922 and a world premiere of a piece written by Adrian Self, commissioned by Levens Choir to celebrate Ian Jones' 46 years as Music Director.
---
The Mass in G minor is the first Mass written in a distinctly English manner since the sixteenth century. The composer dedicated the piece to Gustav Holst and the Whitsuntide Singers; it was first performed on 6 December 1922. Holst's Nunc Dimittis, first heard in 1915, may have influenced the style of the Mass, though it lay forgotten until Imogen Holst revived it in the 1970s.
The first four movements of the Mass for Double Choir were also completed in 1922, the Agnus Dei being added four years later. After its premiere in 1963, Martin explained why it had remained unseen and unheard for all those years: 'I considered it to be a matter between God and myself,' he wrote. 'I felt that a personal expression of religious belief should remain secret and hidden from public opinion.'